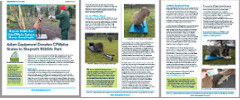 Adam Equipment Donates CPWplus Scale to Shepreth Wildlife Park
When the old scale at Shepreth Wildlife Park stopped working, Alice Vassalo, a Carnivore Keeper, contacted Adam Equipment to get a replacement: "I wrote to Adam Equipment in a time of need, as our beloved scales at Shepreth Wildlife Park had given up the ghost, and we were desperate to find a replacement so that we could continue to monitor our animal health by weighing them at least monthly".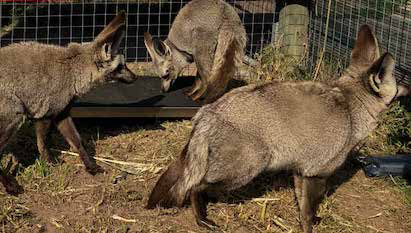 Cheetah Outreach Uses CPWplus Scale to Care for Animals
Despite the name, Cheetah Outreach houses not only cheetahs, but also several small carnivores, including serval, caracal, black-backed jackal, bat-eared fox and meerkat as well as Anatolian shepherd ambassador dogs. They also raise 4 young cubs, who must be weighed weekly, since their food intake is based on percentage body weight.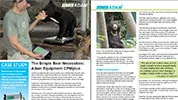 The Simple Bear Necessities: Adam Equipment CPWplus
It's time to weigh the bear cubs at Animals Asia's Vietnam bear sanctuary, and Senior Veterinary Surgeon Kirsty Officer turns to her trusty Adam Equipment CPWplus scale. The CPWplus is perfect for the job she needs to do - make sure those young bears are thriving and gaining the proper amount of weight.
5 Things You Didn't Know About Weighing Animals
Weighing animals is extremely important, as it lets us know if they're healthy or not. Comparing an animal's individual weight to a set median can not only help determine its weight, but its species and state at the time; it also allows caretakers to determine the amount of food, water, medicine and exercise they should receive. However, there is much more to weighing animals than having them step on a scale.

What is Dynamic Weighing?
You might know about animal weighing, and that it's sometimes called "dynamic" weighing. But why does it have another name? Is it ever used when weighing something other than animals? What does selectable digital filtering mean? How can you use it to get more reliable results? Let's find out.
Frequently Asked Questions
Which veterinary scales you use depends on the animal, breed and size of the pet.
For smaller animals such as rabbits, Guinea pigs and small reptiles, the CPWplus Bench Scale is a great option. The lowest capacity model can hold a maximum weight of 13lb/6kg with a readability of 0.005lb/2g and offers an 11.8" x 11.8"/300mm x 300mm pan.
For small/medium sized dogs, cats, larger reptiles and other medium sized animals, the CPWplus M range is a great option. It features a larger 19.7" x 19.7"/500mm x 500mm pan that is completely stainless steel, making for easy cleaning down after use. The MTB Animal Scale can also be used to weigh small to medium sized animals, with a smooth and comfortable weighing pan and non-slip mat to ensure a safe and straightforward weighing experience.
The CPWplus L is perfect for larger pets (like big breeds of dogs), thanks to its 35.4"x23.6"/900mm x 600mm stainless steel weighing pan. For added convenience, the CPWplus L features a useful built-in handle and wheel system for easy transportation.
Precision balances can be used as small animal scales thanks to dynamic weighing functions that can make weighing moving subjects easier. The Equinox, Luna, Solis and Eclipse all feature dynamic weighing, as well as stainless steel weighing pans for easy cleaning and wiping down after use.
Precision balances can also be used as animal feed scales to weigh out feed portions to help track an animal's feeding routines and overall health.
Weighing out animal medicines is also a common use for a precision balance. Veterinary surgeries and farms can accurately weigh out pills, serums and other forms of medicine to a highly precise degree.
Weighing animal feed with a precision balance is quick and simple – begin by setting up your instrument, turning it on and selecting the desired weighing units. Next, place a container or bowl on the weighing pan and tare out the weight so that the display reads zero.
Some precision balances such as the Highland HCB feature a percentage weighing function that allows users to weigh ingredients as a percentage of an overall predetermined 100% value. This can be very useful for weighing multiple types of feeds such as biscuits or canned food.
Once set up, simply pour or spoon the desired mix into the bowl until the display reads the correct amount.